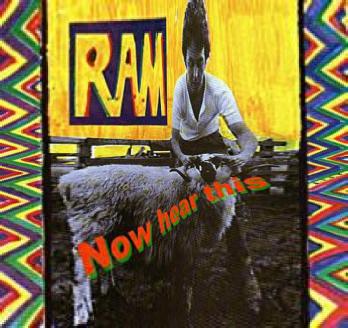 ---
This page is exploring something kind of rare - a bunch of fifteen promo spots for Paul McCartney's second album "Ram". Each of these is only thirty seconds long, but they are all different! The elements are sometimes the same, but they are in a different order any time.
First a bit of history (even though there's not much to say about it):
The 15 tracks, all with the name of "Now Hear This", were released in May 1971 on a DJ-only disc. It had the name of "Brung To Ewe By Hal Smith". The label was "Apple" (of course) and the order number was "6210".
Over the years one or more of the promo spots have appeared on bootlegs, here are a few examples:
"In The 1970's" (LP/Melvin Records/12 S)
"Ann Arbor/Now Hear This" (LP/CBM/3665)
"Brung To Ewe By" (LP/Ram Or Tobe Milo)
"A Doll's House" (2-LP/MHR)
"Brung To Ewe By Thrillington" (CD/Goblin)
The latest release of all of the promos (together with some other stuff) was in 2000 as bonus tracks on the Bootleg with the original Mono-Mix of Ram (Manural Apple MAS-3375).
And now for the contents of the actual promo tracks:


#

Elements

1

- Music: Smile Away (with Voice-Over "Course you get it, man, put a bit of Rockabilly in the ballads ...")
- Followed by normal speed "Now hear this"-music

2

- Starts with baby noises
- Talk "Anyway we didn't get a lift..."
- Followed by slow speed "Now hear this"-music

3

- Music: Smile Away (with Voice-Over "Ah, I mean, well I mean, you know, it was just like a..., you know what I mean")
- Followed by normal "Now hear this"-music

4

- Fast music with Voice-Over ("It's entitled Ram! ...a Boogie!")
- Followed by fast speed "Now hear this"-music

5

- Slow music with Voice-Over ("Ram, Ram, Ram, Ram... and giddedede, ramaramaram")
- Followed by normal speed "Now hear this"-music
- Ends with sheep noises

6

- Music: Ram On (with Voice-Over "Well, we got to get an album together, man... ...a Boogie!")
- Followed by fast speed "Now hear this"-music

7

- Music: Uncle Albert/Admiral Halsey (with Voice-Over "Chop this up at random, you know... New York...")
- Followed by slow speed "Now hear this"-music

8

- Music: Ram On (with Voice-Over "Ah, I mean, well I mean, you know, it was just like a..., you know what I mean")
- Followed by normal speed "Now hear this"-music

9

- Starts with sheep noises
- Talk: "It's entitled "Ram! Ram! Ram! ...a Boogie!"
- Followed by fast speed "Now hear this"-music

10

- Music: Ram On (with sheep noises and Voice-Over "It's entitled Ram!")
- All over the song Paul is saying "Ram", some of it in the same sound as a sheep noise

11

- Music: Uncle Albert/Admiral Halsey (with whirly noise and Voice-Over "Anyway we didn't get a lift...")
- Followed by slow speed "Now hear this"-music
- Ends with sheep noise

12

- Water noise (with Voice-Over "Ram, Ram, Ram, Ram and giddededee, ramaramamam")
- Followed by normal speed "Now hear this"-music
- Ends with sheep noise

13

- Music: The Back Seat Of My Car/Dear Boy/3 Legs (with Voice-Over "What is this? This is work, woman, this is work!")
- Followed by slow speed "Now Hear This"-music
- Ends with music "Eat At Home"

14

- Water noise (with Voice-Over "Well it's quite a weather in Scotland (?)")
- In the background Paul is saying "Ram" in the same sound as a sheep noise
- Followed by slow speed "Now Hear This"-music
- Ends with sheep noise

15

- Music: The Back Seat Of My Car/Dear Boy/3 Legs (without Voice-Over)
- Followed by slow speed "Now Hear This"-music
- Ends with sheep noise